Free PHPBB Forum Hosting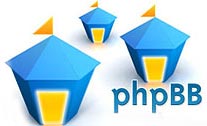 Setting up your own community message board has never been so easy. We allow you to setup your own message board within seconds. With NetFreeHost.com free phpbb forum hosting, you don't have to worry about installing scripts or buying web space.
NetFreeHost.com Free phpBB forum hosting allow unlimited posts, replies and forums. Our phpBB message boards are also highly customizable. We provide almost every templates and languages available for phpBB message board. Now we have more than 250 templates.
Click here to get your PHPBB Forum today !
PHPBB latest version.
Easy installation
Over 250 Templates
Support over 50 Languages
Private or public forums
Sub Domain: YourName.NetFreeHost.com
Instant Activation
24/7 Community Support
Unlimited Bandwidth
Free Search Engine Submission of your forum.
No limit on number of post, space, members, or size.
Hosted Phpbb Forums